MEET THE CHEF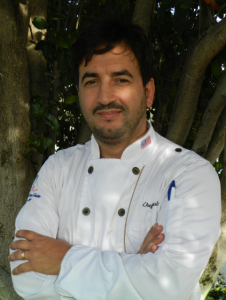 Chef Paulo Carvalho was born in Funchal Madeira, a Portuguese Island located in the North Atlantic Ocean. His Mediterranean heritage often shows by his love to cook in a variety of flavors and styles, from complex gourmet meals to simple Mediterranean Flavors. He started his culinary career in 1992 at the tender age of 17 as prep cook at Prestigious Savoy Hotel in the Jersey Channel Islands. There he quickly rose through the ranks to became the sous Chef over a short 3 year period. His time at Savoy Hotel gave him the opportunity to learn from a long series of expert European executive chefs.
After graduating in 1997 at Highlands College Jersey, Chef Paulo become the sous Chef of celebrity Chef Stephen Bodnar at Hamilton Group Hotels. Four years later chef Paulo was invited to be the executive Chef at Rozel bay in one of the most prestigious restaurants in the island.
He has an extensive international experience. He worked in the Britain Channel Islands, Asia, Brazil and Spain before moving to United States, where he settled in Napa, California in 2012. Chef Paulo relies on his creativity and his impeccable taste to develop and provide innovative dishes to be enjoyed in catering functions as well as social events. He has over 20 years of experience in the catering business around the world, including five star hotels and cruise lines. His previous experience contribute for his cooking style and added depth to his knowledge of creative Mediterranean, Asian and American dishes.
Chef Paulo loves to leverage the French approach and techniques when he is cooking, accompanied with American, California Cuisine. His search for the freshest and best ingredients takes him all over the the Bay area, from Silicon valley, to San Francisco and all the way to the Napa region. He personally sources out the ingredients seeking out not only the freshest but also the ones that are farmed locally.